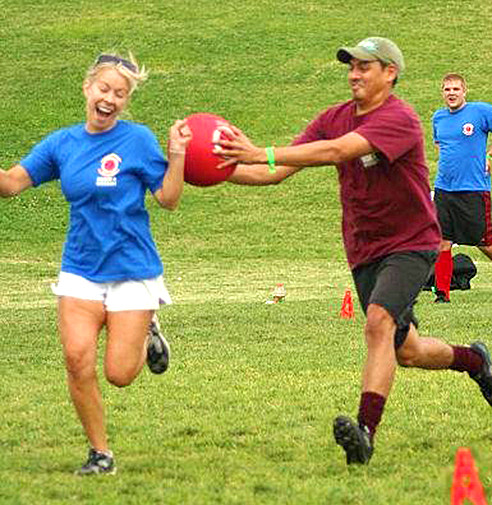 Wanna feel like a kid again?
Looking to make new friends or need a reason to spend time with old ones?

Sportport Adult Recreation Leagues give you the opportunity to blow off some steam, act a little goofy and get outside and play! Come have FUN with us!

We offer three different sports: Kickball, Flag Football, and Grass Volleyball.
*Open to ages 18+
To Register:
Choose the evening that works best for your schedule below and click the "Register" button. A window will pop up asking how you would like to register. You can choose to register as a free agent, team captain, or team player.
If you are an individual player looking to be placed on a team who is still needing players then the Free Agent option is for you. This is a great way to meet a whole team of new people!
If you are heading up a group of people who all want to play on a team together then pick the Team Captain option. While registering your team, you will be asked if you would like to either A) pay the full team amount yourself or B) divide the team fee among a certain number of players that you specify. Teams need a minimum of 8 players. If you have a group of 6 friends who want to start a team and can't find another 2 players, for example, then we will fill in the the extra 2 spots with free agents. 
If you are part of a group of people who have decided to start a team and your team captain has already registered your team name then choose this option. You will login to pay your part of the team fee and give your t-shirt size.